Ditambahkan pada : May 12th, 2015
*Harga Hubungi Kami
Stock :
Tersedia
Kode Produk : Power Amplifier TOA ZP-2240
Dilihat : 1,803 kali
Kategori :
Produk TOA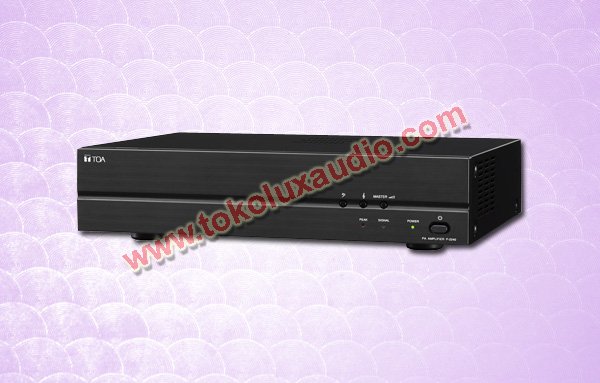 Harga Belum Termasuk PPN & Ongkos Kirim Luar Kota
Kontak Marketing Kami Untuk Dapatkan Harga Terbaik
Power Amplifier TOA ZP-2240
* High reliability!
o Passed the numerous test and verifications in Japan
o Finish is scratch- and fingerprint-resistant.
* High cost-performance
* 240W, Max 360 Watt
* Can be used as a booster amplifier in conjunction with A-2000 Series.
* Comes with a 100V line input
* ZP-2240's power can be switched on and off by remote control.
* (H version only) In case of emergency, the master volume can be bypassed to make emergency announcements.
Specifications:
Model : ZP-2240
Power Source: 110 -120V AC (L version)/220-240V AC (H version) or 24-30V DC
Rated Output: 240W
Power Consumption: 520W (AC operation at rated output), 15A (DV operation at rated output)
Frequency Response: 50 – 20.000 Hz (+ 3 dB)
Distortion: Under 1% at 1kHz, 1/3 rated power.
Input: Line in: 0 dB*, 10k ohms, balanced,screw terminal. 100V line in: 40 dB*, 330k ohms, unbalanced, screw terminal. Power remote control: Make contact.
Output: Loop out: 0 dB*, 10k ohms, Balanced, screw terminal. Speaker out: Balanced (floating). High impedance: 42 ohms (100V), 21 ohms (70V). Low impedance: 4 ohms (31V).
S/N Ratio: Over 60 dB
Tone Control: Bass: +10dB at 100Hz, Treble: +10 dB at 10kHz
Ventilation: Fan cooling
Indicator: Power, signal, peak
Finish: Panel: ABS resin, black/Case: Steel plate, black
Dimensions: 420 x 100.9 x 351.3 mm (16.54″ x 3.97″ x 13.83″)
Weight: 13.2 kg (29.1 lb)