Ditambahkan pada : May 12th, 2015
*Harga Hubungi Kami
Stock :
Tersedia
Kode Produk : Megaphone TOA ZR-2015S
Dilihat : 1,303 kali
Kategori :
Produk TOA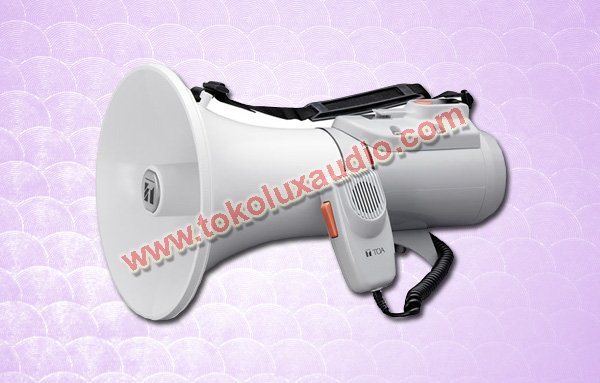 Harga Belum Termasuk PPN & Ongkos Kirim Luar Kota
Kontak Marketing Kami Untuk Dapatkan Harga Terbaik
SHOULDER TYPE MEGAPHONE TOA ZR-2015S WITH SIRINE
Shoulser Type Megaphones
The ZR-2015S is an easy-to-operate, shoulder megaphone rated at 15W of output and having a separate microphone with siren.
It can be mounted to the optional ST-16 speaker stand.
Microphone with anti-bacteria treatment improve hygiene and safety during use.
The newly developed polyimide diaphragm is employed to ensure high sound quality.
Specifications:
Power Requirements R14P (C) × 6 (9V DC)
Output Power Rated 15W, max. 23W
Battery Life Voice: Approx. 9 hrs.
Whistle: Approx. 20 min.
Talk: Approx. 400m
Sirene: Approx. 500m
Sirene Mode: Push to Talk, override the sirene signal.
Diaphragm Polymide film (voice coil, bobbin)
Antibacterial Treatment Microphone
Operating Temperature -0ºC to +40ºC
Finish Horn: ABS resin, light gray
Microphone and other: ABS resin, gray
Strap: Nylon, black
Dimensions ø210 ×310mm
Weight: 980 g
Microphone: 130 g (cable excluded)
*Color: White